The Alison Group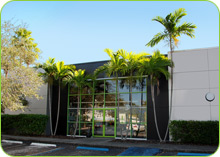 Fabric Banners
Fabric Banners are banners that are dye sublimated printed on fabric. There are many different types of fabrics that can give you different dramitic effects such as Satin, Poplin, Sheer, Netting, Dacron, Reemay, Knit, Poly Duck, Canvas, Lycra, Lynen, and Sunbrella.
Dye sublimation is a process which replicates continuous tone printing via the migration of dyes through levels of material to its final resting place on the surface. This gives an amazing print quality.
See samples of Fabric Banners.